Rodolfo Young
Cultivate Your Skills and Nourish Your Purpose

Ready to cultivate the skills and power within you to help others become their best selves? - Of course you are!
You know it, you feel it, your friends and family tell you it... you have a gift.

And that gift is waiting to be nourished, cultivated, supported, and given permission to be expressed and to be of service. It's time!

And it is my honor to be here available as a mentor along that path of empowerment and growth. My mentorship programs have three specific subjects you can choose from: Public Speaking Skills, Coaching Skills, or Energy and Breathwork Facilitation Skills.

What People Are Saying...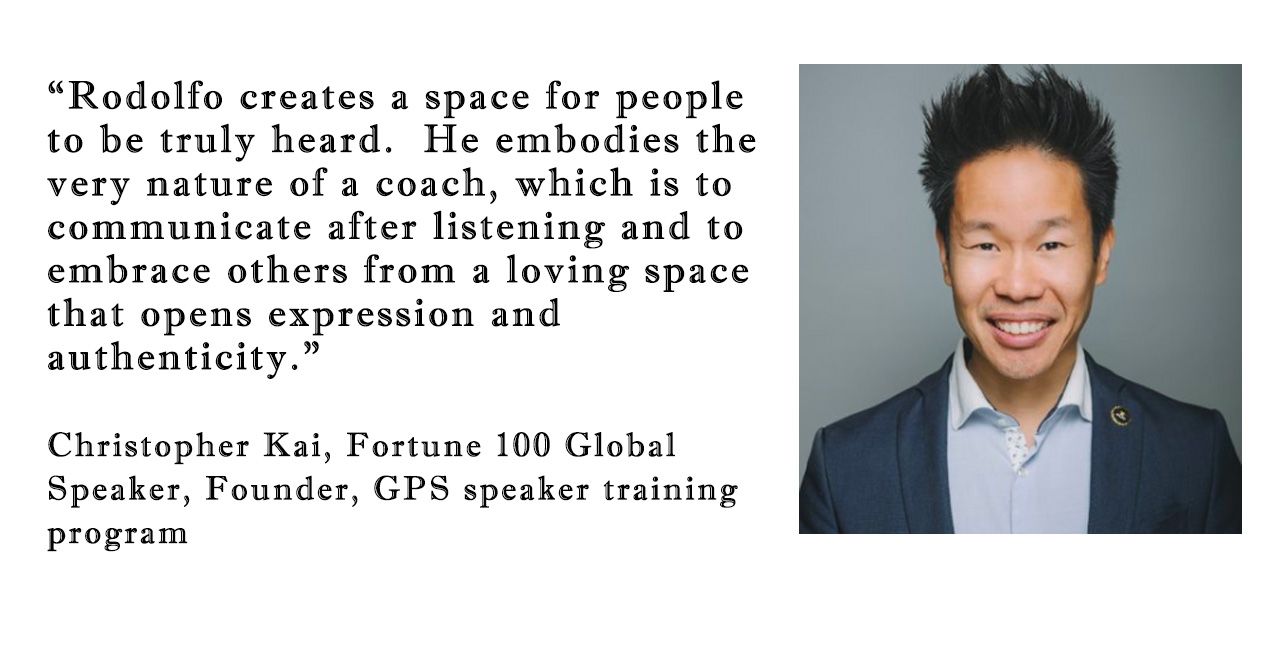 "This man right here has given me the most incredible healing I have ever known. The level of grief I had hidden within me, that has been locked away for 3 years has been revealed today. Not only revealed, it has been released and let go of."
- Kate Malvenan
Founder of Maison and Maison, Cancer Survivor
"Rodolfo is an amazing human who lives and practices what he teaches. With his help, I've been able to unearth some deep emotions that wanted to come up and out, and celebrate having an open heart!"
- Elissa Weinzimmer
Founder at Voice Body Connection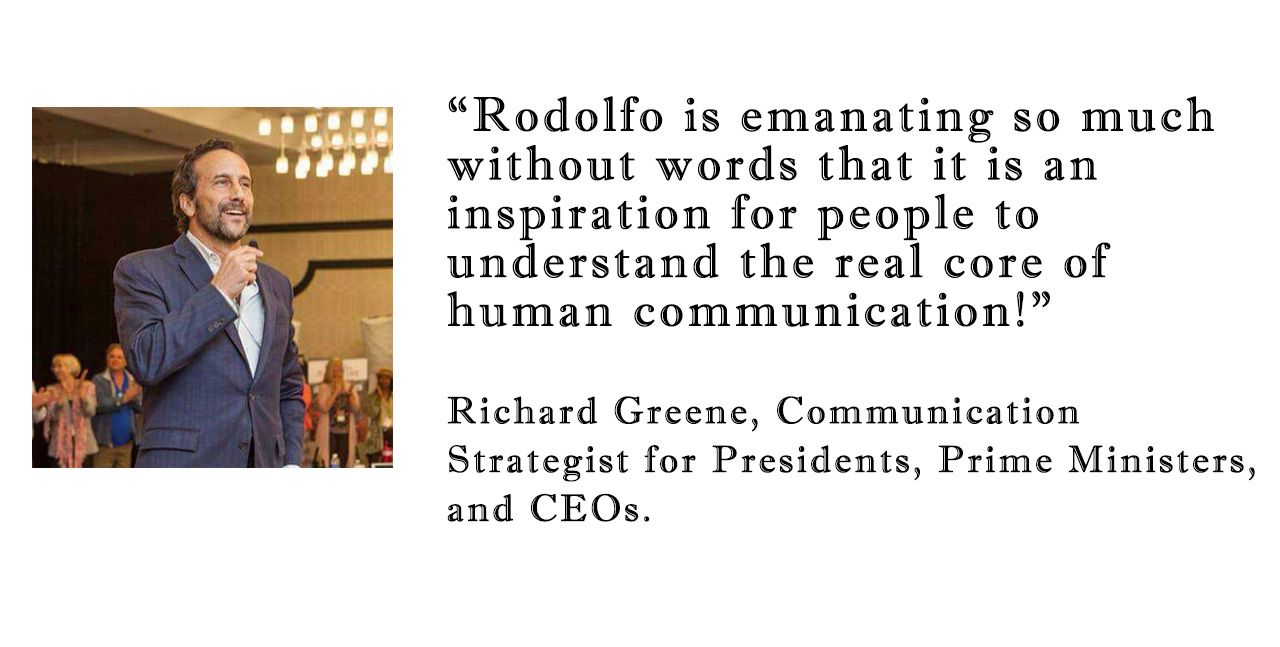 "After much trauma my heart had closed up and I struggled to open it up to express my emotions. Even though I had been through so much I couldn't seem to cry and I felt numb. A couple of days after my first (breath and energy healing) appointment with Rodolfo I found myself crying because I felt so much love, it was so beautiful. Since then so many miracles have entered into my life because my heart is now open, with thanks to Rodolfo.He has given me a greater quality of life and more zest for life just by opening me up to the possibility that I can be filled with love"


- Anita Jamieson
Travel & Lifestyle Photographer, Cancer Survivor
It depends on which mentorship you choose...
Speaking Skills
Cultivate your mastery of public speaking!
Overcome lack of confidence and stage fright.

Learn to engage and converse with your audience.

Master the art of clear and concise communication.

Eliminate distracting filler words.

Learn to use the power of silence and pausing.

Develop group management skills and leadership.

Understand business strategy and marketing for making this a profession.

And much much more....
Transformational Coaching Skills
Cultivate your mastery of coaching others!
Learn powerful techniques based in NLP, Response Work, cognitive behavioral psychology, positive psychology, and more.

Develop compassionate communication skills

Understand core beliefs and fears that limit your clients.

Experience personal transformation and clarity.

Learn the Art of Listening

Learn how to create a safe container.

Cultivate sensitivity and awareness of subtle cues in body language and word choice.

Learn how to create a safe container.

Understand business strategy and marketing for making this a profession.

And much much more....
Energywork and Breathwork Facilitation Skills
Cultivate your mastery of using breathwork and energetics to empower others.
Learn energywork and breathwork techniques that have been developed and refined over the last 10 years.

Learn how to create a safe container.

Develop your intuition and trust.

Cultivate your sensitivity and awareness.


Understand business strategy and marketing for making this a profession.

Develop strong communication for client conversation.

Receive and practice hands-on training.

And much much more....
...this mentorship will guide you...
In cultivating your personal skillset and empowered gifts.

To get a clear intention and vision of your goals

To eliminate your self-imposed limitations and conditions

To shed your shame and embrace your full expression

To cultivate equanimity, mindfulness, and quiet inner peace

To learn to create abundance by opening to receive and getting aligned

To develop vulnerable strength so you can express confidently

To deepen your trust in self and in others

To learn to get yourself out of the way and stop self-sabotage

And much more...
RODOLFO YOUNG
Rodolfo is the founder of The BrillianceEDU and a master coach on relationships, self-discovery, and habits for success and happiness. A former Special Ops soldier turned motivational speaker and mentor, Rodolfo is on a mission to Inspire 1 Million Hearts.
SHARE THIS WITH FRIENDS THAT YOU LOVE!
Guaranteed Security using one of the most advanced encrypted systems on the market.
The information in this page is being processed and encrypted securely using industry-leading encryption and fraud prevention tools.
Great to see you here!
Let us bootstrap your career!
Created with